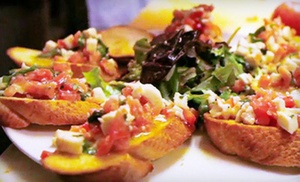 $40 Groupon for dinner
Italian cuisine has a place in the hearts of many Americans, who grew up eating pizza and batting at mobiles made from uncooked linguine. Satisfy nostalgic taste buds with this Groupon.
$20 for $40 Worth of Italian Cuisine for Dinner
The menu includes antipastos, such as baked mussels in tomato sauce ($6.50) and crab-stuffed mushroom caps ($6.95), and pasta and meat entrees such as spaghetti bolognese ($12.95) and veal with mushrooms and brandy cream sauce ($17.95).