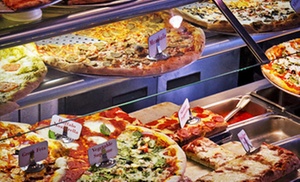 Four slices of pizza, two desserts, and two large drinks for two
Pizza is a party food, much like a piñata stuffed with shrimp. Break out the fun with this Groupon.
The Deal
$11 for a pizza meal for two (a $22 total value)
Four slices of one-topping pizza (a $3.25 value each)
Two brownies or cookies (a $2.25 value each)
Two large soft drinks (a $2.25 value each)
See the pizza menu.