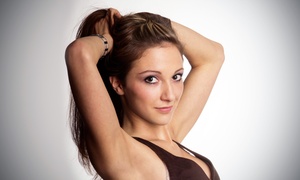 Six laser-hair removal treatments on a small area
Spending a day at the spa can make you feel like royalty, much like cleaning out your earwax with a tiny silver spoon. Rule with a soft, well-moisturized fist with this Groupon.
Choose Between Two Options
$185 for six laser hair-removal treatments on one small area (up to a $2,160 value)
$998 for six Zerona body-sculpting treatments (a $2,400 value)
The first option is valid for one of the following areas: bikini line, chin, ears, neck, sideburns, underarms, or upper lip. During each hair-removal session, a laser flashes light onto the targeted area, gently heating the follicle to disable the root's ability to grow. A series of six treatments targets hair in different growth cycles to optimize smoothness. Alternatively, 40-minute Zerona treatments pulse low-level lasers over an area determined during a pretreatment consultation, such as the stomach, back, or thighs. The lasers undermine fat cells, causing them to release their fluids into the body, which the lymphatic system whisks away.