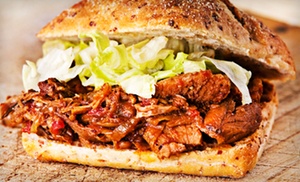 $24 Groupon
Barbecuing, like painting, usually entails the use of a brush, a master's touch, and the building anticipation to eat your finished product. Enjoy saucy masterworks with this Groupon.
Choose Between Two Options
$12 for $24 worth of barbecue, such as a sample platter with a half rack of ribs ($12.95), a pork platter with a half pint of pork ($8.95), a novice barbecue sample platter ($10.95), baked beans ($1.49), or a kids' corn dog ($3.99). See the full menu.
$49 for $100 worth of catering, such as a Crowd Favorite package with Virginia or North Carolina pork barbecue, Texas beef brisket or rotisserie chicken, three sides, and fresh baked buns ($11.95/person).