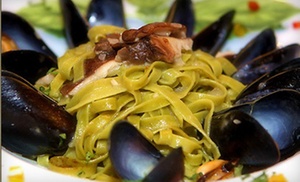 $45 Groupon
Contrary to popular belief, when the moon hits your eye like a big pizza pie, that's a lawsuit. Enjoy Italian cuisine without fear of physical reprisal with this Groupon.
$20 for $45 Worth of Italian Cuisine
The extensive menu includes gourmet pizzas and more than 10 pastas, such as pesto-slathered gnocchi ($17.95), spinach ravioli ($17.95), and hand-rolled lasagna layering minced veal, ricotta, mascarpone, and béchamel sauce. A grilled fillet of tuna ($22.95) and a 12-ounce new york strip steak ($26.95) offer noodleless alternatives. Guests can conclude feasts with a tiramisu that's soaked in espresso and layered with mascarpone mousse ($7.95).