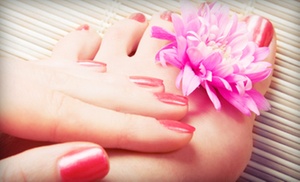 One jelly spa pedicure and 10% discount for all hair services
Long, healthy nails can help in tasks such as scratching an itch or retrieving a wedding ring from inside your pet snake. Get in there with this Groupon.
Choose from Three Options
$15 for a TN spa manicure (a $30 value)
$27 for a jelly spa pedicure (a $55 value)
$39 for a TN spa manicure and jelly spa pedicure (an $85 value)
The manicure includes an exfoliating scrub, hot towel, hand massage, and hot paraffin treatment. The pedicure also includes an exfoliation scrub, hot towel, and massage, with an added foot mask.