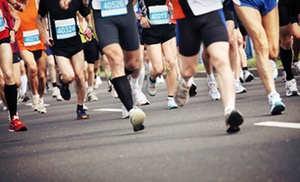 One ticket to Zombie 5k run
Franklin D. Roosevelt inspired legions of Americans when he famously said, "The only thing we have to fear is this haunted house." Venture bravely into terrifying territory with this Groupon.
Choose from Three Options
$22 for Zombie 5K admission for one (a $45 value)
$39 for Zombie 5K admission for two (an $80 value)
$75 for Zombie 5K admission for four (a $150 value)
Starting at 1 p.m. on Saturday, March 23, the Zombie 5K challenges runners to test their endurance and survival skills on an obstacle-laced course infested with zombies. Each runner is outfitted with flags that signify their health, and if they lose all of their flags, then they become a zombie themselves. The goal is to follow your instincts and make your own way from the starting line to the finish line with at least one flag intact. All runners receive a racing bib and medal to signify whether they survived the race, and the top finishers are eligible for prizes and free admission to the postrace party.