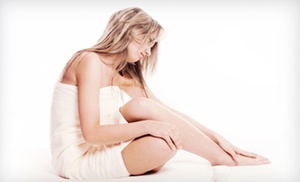 Six laser hair-removal treatments for a small area
Hair removal gives shiftless lasers a creative outlet during their spare time, which would otherwise be spent harassing cats and blinding the Hubble Space Telescope. Give a beam a new purpose with this Groupon.
Choose from Three Options
$199 for six laser hair-removal treatments on a small area (up to a $1,050 value)
$299 for six treatments on a medium area (up to a $1,650 value)
$399 for six treatments on a large area (up to a $2,850 value)
Using the Aerolase laser hair-removal system, medical professionals direct energy at unwanted hair to destroy it at the follicular level. During the treatment, advanced lasers make laser hair removal more comfortable than waxing or training a pet scorpion to pull hairs out one by one. They recommend scheduling one session per month to target hair at multiple growth stages, maximizing the treatment's effectiveness. Click here for a list of valid treatment areas.