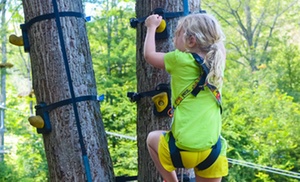 Two Passes to the Monkey Grove
Some people are born to run; some are born to scramble up and down trees like a tokay gecko. Unleash your inner lizard with this Groupon.
The Deal
$19 for Monkey Grove tree-climbing passes for two (a $38 value)
At the park's new Monkey Grove, climbers can scale 10 trees equipped with a rock wall's footholds and grips. The Monkey Grove is opened Fridayâ€"Sunday from 1 p.m. until closing.