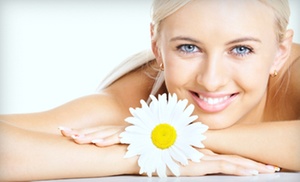 60-minute couple's therapeutic massage
The shoulders carry much of the body's tension, as well as the body's finite supply of shrugs. Let go with this Groupon.
Choose from Three Options
The signature facial is customized according to the client's skin condition and includes a deep cleansing, exfoliation, and extractions using high-quality products as well as a galvanic treatment that helps ingredients penetrate deep into the skin. The aromatherapy massage blends Swedish, deep-tissue, and trigger-point modalities to relax the body as aromatic oils and hot towels soothe the mind and spirit. The therapeutic couples massage employs medium pressure to relieve tension and lavender oil to enhance the relaxation.