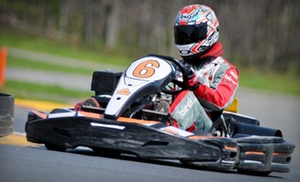 Four "Arrive and Drive" rides
Go-kart tracks are winding and curving courses commonly designed in such layouts as the figure eight and the snake kissing a garden hose. Hug those curves with this Groupon.
The Deal
$49.99 for four arrive-and-drive rides (a $106 value)
This Groupon is only redeemable during arrive-and-drive hours on Friday and Sunday after 5 p.m.
Riders strap into high-performance Sodi RX7 karts that pack a 13-horsepower engine for head-to-head races around the Washington Circuit's 22 turns. Each racing session lasts 11 minutes, which is enough time for about 10 laps. To help ensure safe rides, the drivers first must watch a safety video. SPK provides full-face helmets, head socks, and driving suits.