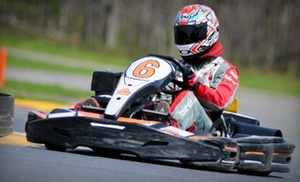 One 1-ride go-kart pass
Go-kart tracks are winding and curving courses commonly designed in such layouts as the figure eight and the snake kissing a garden hose. Hug those curves with this Groupon.
Choose Between Two Options
$12 for one high-performance go-kart ride (a $25 value)
$35 for three high-performance go-kart rides across three visits (a $75 value)
Riders strap into high-performance Sodi RX7 karts that pack a 13-horsepower engine for head-to-head races around the Washington Circuit's 20 turns. Each racing session lasts 11 minutes, which is enough time for about 10 laps. To ensure safe rides, instructors give a safety lesson before each race, and the center provides full-face helmets, head socks, and driving suits. For track availability, check the calendar for Arrive and Drive events.