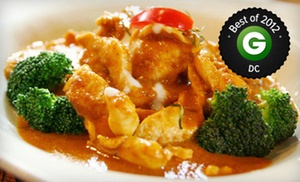 1301 U St. NW: $40 Groupon
Variety is the spice of life, recently replacing "Ol' Paw Johnson's Life Spiceâ€"Now With Real Flakes of Life!" Shake things up with this Groupon.
$20 for $40 Worth of Thai Cuisine
Choose one of the following restaurant locations:
$10 for $20 Worth of Thai Cuisine
Each restaurant location serves its own menu of authentic Thai dishes, such as pad prik king ($8.95â€"$10.95), panang curry with shrimp ($14.95), and kee mao ($7.95â€"$14.95).