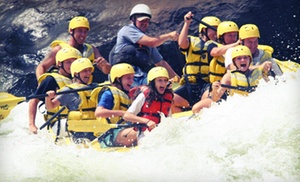 Rafting package with two nights camping, one day rafting, meals, and more
A thrilling journey down whitewater rapids will make you feel just like cinematic adventurer Indiana Jones in one of his hit movies, such as The Curse of Indiana Jones or Indiana Jones 2: Still Jonesin'. Get exploring with this Groupon.
$81 for Two-Night Camping Trip on the Upper New River or Lower New River, Valid Monday-Friday (Up to $148.10 Value)
For the Lower New River trip, the group will spend one day whitewater rafting, navigating mild to difficult rapids (categorized as Class II through V). The wet n' wild adventure takes rafters through the rough whitewater waves of Lower New River Gorge, referred to as "The Grand Canyon of the East" for its spectacular natural beauty. During calmer stretches, depending on conditions, paddlers can even hop overboard for a swim. The takeout point is at New River Gorge Bridge, one of the world's longest steel single-span arch bridges. Customers must be 12 or older to join this trip.
The Upper New River trip is a more subdued adventure, intended for as a family-friendly introduction to rafting. During the excursion, paddlers traverse gentle waves and occasional mild rapids, with plenty of opportunities to swim and relax. Customers must be 6 or older to join this trip.
During either trip, you'll spend two nights camping at the River Expeditions base campground. A light breakfast and riverside deli lunch are included, as are hot showers, après-rafting beverages, and a round-trip river shuttle. Note that this price is per person.