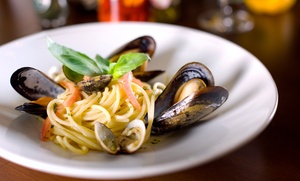 Dinner for two, includes wine, 2 appetizers, 2 entrees, and 2 desserts
Italy is easily identified from space thanks to its boot-like shape and the "Italy" label Napoleon had stenciled on the southern Alps. Taste well-defined cuisine with this Groupon.
Choose from Three Options
$69 for dinner for two (up to a $169 value)
Two glasses of prosecco wine
Two glasses of red or white wine
Two appetizers
Two entrees
Two desserts
$139 for dinner for four (up to a $349 value)
Four glasses of prosecco wine aperitif
One bottle of red or white wine
Four appetizers
Four entrees
Four desserts
$29 for lunch for two (up to a $69 value)
Choice of two appetizers or desserts
Two entrees
See the menu.