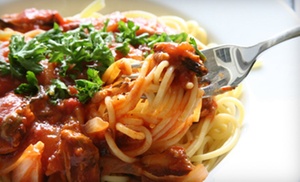 $30 Groupon for two
Pizza is a party food, much like a piñata stuffed with shrimp. Break out the fun with this Groupon.
Choose Between Two Options
$15 for $30 worth of Italian cuisine for two
$25 for $50 worth of Italian cuisine for four
Pine of Florence DC serves up an extensive menu of gourmet Italian food such as spaghetti with pesto sauce ($10.95), chicken marsala ($11.95), or steamed clams with linguini ($15.95). Pizzas range in size from 10 inches to 16 inches, and come adorned with feta cheese, italian salami, or hot peppers ($7+).