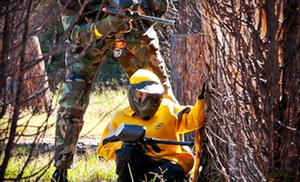 All-day pass, equipment rental for three, including 100 paintballs each: Redeemable Saturdays and Sundays only
Paintball combines the beauty of abstract art with the visceral rush of military combat, much like a Jackson Pollock biopic starring Sylvester Stallone. Paint a Rambo-worthy masterpiece with this Groupon.
$59 for a Paintball Package for Three ($311.40 Value)
Each player in the group receives an all-day paintball pass valid for walk-on play on any Saturday or Sunday, equipment rental, and 100 paintballs each. Players also receive an additional all-day paintball pass for a return visit.