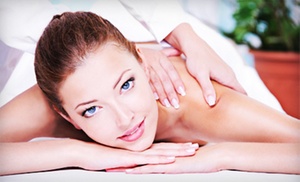 Two massages
Getting a massage can be relaxing, like listening to the sound of the rainforest or to the sound of a whale whispering, "You are in a safe place." Feel at peace with this Groupon.
Choose from Three Options
$120 for two massages (a $240 value)
$120 for two facials (a $240 value)
$120 for one of each (a $240 value)
Select from Swedish, deep-tissue, sports, and prenatal massages. The deep-cleansing facial matches your skin type with steam therapy, exfoliation, extractions, and moisturizer. Each treatment lasts about 50 minutes.