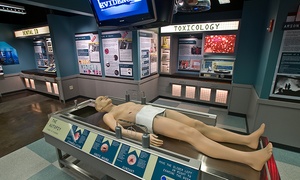 General admission for one
The first crime-and-punishment museum was an actual penitentiary, hosting tours that gave guests an up-close look at a prisoner's life, which often included hard labor, matching jumpsuits, and horrific tour-giving duties. Explore justice in a friendlier environ with this Groupon.
Choose Between Three options
$13 for general admission for one (up to a $21.95 value)
$25 for general admission for two (up to a $43.90 value)
$48 for general admission for four (up to a $87.80 value)
Interactive exhibits include a simulated FBI shooting range and high-speed police chase. Visitors can also learn about historic felons and the criminal side of America's past.