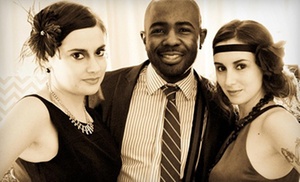 May 31, 7 p.m.: One Ticket to "Prohibition After Hours" Tour
The Roaring Twenties were a time of great, doomed experiments, from Prohibition to the election of lions into Congress. Witness social engineering's consequences with this GrouponLive deal.
The Deal
$22 for one ticket to the Prohibition After Hours exhibit (up to a $44 value)
When: Friday, May 31
Where: The Crime Museum
Ticket values include all fees.
Prohibition After Hours
Adventurers explore the Roaring Twenties at a time when the museum's doors regularly would be shut tight. Museum-goers wander through an interactive series of exhibits that focus on Prohibition and the history of crime in general, and like apprehended bootleggers and serial jaywalkers, visitors can ink themselves with temporary prison tattoos and decide on a last meal, before springing themselves from the joint to analyze blood splatter like modern forensics experts. Interactive demonstrations in forensic science help museum-goers learn the stories that blood spatters tell before an exploration of prison tattoos shed light on the social orders in the pen.