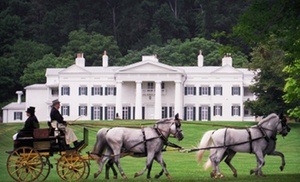 Two people: One 90-minute columns and carriages tour
History tends to repeat itself, which means there's a good chance you'll get run over by another war elephant. Learn from the past with this Groupon.
Choose Between Two Options
$9 for a 90-minute Columns and Carriages tour for two (up to an $18 value)
$18 for a 90-mintue Columns and Carriages tour for four (up to a $36 value)
A historical interpreter guides tours through the Greek revival mansion, where chandeliers illuminate hardwood floors and finely woven rugs. Groups can marvel at a collection of 16th-century Flemish tapestries, art nouveau pieces, and displays that chronicle the life of former Virginia governor Westmoreland Davis, who called the mansion home during the early 1900s.
Next, the historian takes groups to the other side of the grand lawn to explore the Winmill Carriage Museum. Viola Winmill collected more than 125 antique carriages from 1928 until her death in 1975. The museum showcases dozens of her best-preserved carriages, including a hansom cab, similar to the carriages used in the Sherlock Holmes movies, and the Silsby steam pumper, which was one of the first carriages to use a rotary motor.
Children aged 6â€"12 cost $5; children 5 and younger are free.