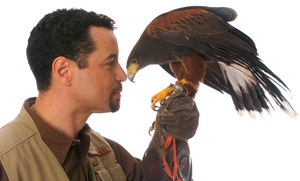 One 90-minute falconry presentation
Whoever said knowledge is power never possessed a monster truck. Accelerate your learning with this Groupon.
Choose Between Two Options
$30 for a 90-minute falconry presentation for one (an $80 value)
$40 for a 90-minute falconry presentation for two (a $160 value)
Presentations are suitable for all ages and will take place indoors on Sunday, October 6, at noon and 3 p.m.
During this educational and entertaining presentation, Mike Dupuy will introduce visitors to his birds of prey while sharing personal anecdotes and interesting facts. Each guest may also take a picture with a live hawk on his or her arm. This is not a flying demonstration, but rather an introduction to the art and sport of falconry. Photos are permitted.