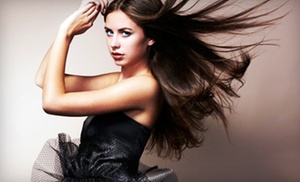 Haircut with deep conditioning and style
A stylish haircut makes a good impression because it shows people you can be trusted around scissors. Inspire confidence with this Groupon.
Choose from Three Options
$59 for a haircut, a style, and a deep-conditioning treatment (up to a $120 value)
$109 for a haircut, a style, a deep-conditioning treatment, and partial highlights (up to a $200 value)
$195 for a haircut, a style, and a keratin relaxer smoothing treatment (up to a $395 value)
Specialized stylists personably attend to tresses, harnessing knowledge from weekly educational seminars to grant clients the exact cut and color they desire. Before each haircut and style, the mane masters can infuse strands with a hydrating conditioning formula or smooth them with a keratin treatment. To ensure accuracy, they mix the hair color directly in front of clients who opt for highlights.
Some hair-straightening products that claim to be formaldehyde-free include aldehyde compounds, which are similar to the carcinogen formaldehyde. Side effects may include nosebleeds, headaches, vomiting, and respiratory problems, among others. Learn more about the health risks here.