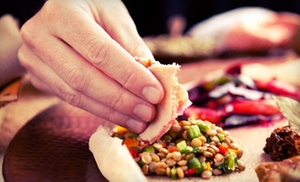 $30 Groupon
Those who travel abroad learn countless secrets, including the fact that the British call french fries "chips" and call chips "potato nasties." Taste the fruits of other cultures with this Groupon.
$15 for $30 Worth of Ethiopian Cuisine
In addition to ample beef and lamb entrees, Meaza's menu includes appetizers of lamb short ribs ($6.99) and vegetarian entrees of shiro ($11.99)â€"powdered peas cooked in a clay pot with a fiery mix of garlic, onion, and jalapeño.