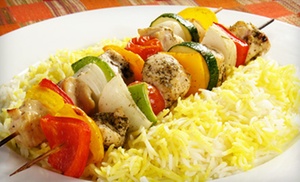 $30 Groupon
Mediterranean restaurants adhere closely to tradition, thanks to the generations of poets who memorized and recited takeout menus in public squares. Enjoy an oral tradition with this Groupon.
$15 for $30 Worth of Middle Eastern Food
The menu includes lamb-stuffed cabbage ($16), shish kebabs ($19), and salmon with tabbouleh ($20).