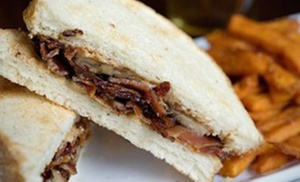 Two entrees and two drinks for lunch
Lunch is important because it tides over appetites until dinner and gives poets another word to rhyme with "munch." Enjoy the art of eating with this Groupon.
$15 for Lunch for Two (Up to $34.96 Value)
Two entrees (up to a $14.98 value each)
Two non-alcoholic drinks (a $2.50 value each)
Lunch, which is served Friday from 11:30 a.m. to 4 p.m., includes dishes such as mac 'n' cheese with truffles, mussels with tequila lime sauce, and scallops with risotto. See the full menu.