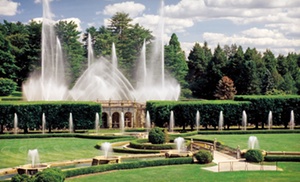 One adult admission
For thousands of years, humans have studied trees to learn how they too can provide suitable housing for squirrels and grow lemons from their fingertips. Branch out with this Groupon.
$9 for One Adult Garden Admission (Up to $18 Value)
No matter the season, there's something to do at Longwood Gardens, from admiring the crashing waters at the Festival of Fountains (through Sept. 2), to looking at beautiful chrysanthemums during the Autumn's Colors event (Sept. 7â€"Nov. 24). Visit the Music room for the current exhibit Secrets of Victoria: Waterlily Queen, which explores the exotic South American flower (through Sept. 29). Click here to see current specimens in bloom within the greenhouse.