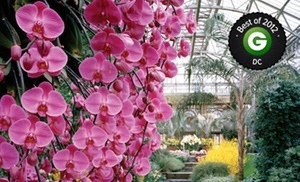 One adult admission ticket
For thousands of years, humans have studied trees to learn how they too can provide suitable housing for squirrels and grow lemons from their fingertips. Branch out with this Groupon.
$9 for One Adult Garden Admission (Up to $18 Value)
No matter the season, there's something to do at Longwood Gardens, such as scheduled OrKid Days visited by musical storytellers (February 18 and March 16) and Beyond the Garden Gates days, held twice a month, during which visitors learn what makes the arboretum possible from the mouths of the gardeners themselves. Exotic specimens in bloom within the greenhouse at the moment include the SVO Black Pearl, a nearly black hybrid orchid; the bright-orange aloe nyeriensis; and Mandela's Gold, a sunshine-colored bird of paradise. Perusers may also stroll through the 4-acre Orchid Extravaganza exhibit, a daily event which showcases more than 5,000 orchids in different settings, forms, and artwork.