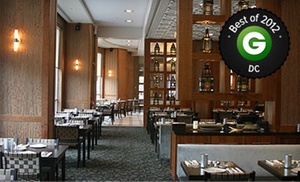 $70 Groupon for four or more
Dining out can be a great change of atmosphere, especially if you're used to eating your meals hastily in an unguarded meat locker. Have a seat with this Groupon.
Choose Between Three Options
$5 for $10 worth of happy hour fare
$20 for $40 worth of Lebanese cuisine
$35 for $70 worth of Lebanese cuisine for four or more
The menu reads like a fairytale of Lebanese flavor, where a three-green-herb sauce elevates the grilled lamb sharhat ($21), a tomato-cilantro-pine nut sauce casts a spell over salmon harra ($18â€"$20), and tahini sauce guides chickpea fritters to housemade flatbread for a falafel sandwich ($10).
The happy hour menu is served in the bar and lounge Monday through Friday from 4 p.m. to 7 p.m., and includes a selection of $5-and-under drinks and small plates, such as falafel with tahini ($3), wine by the glass ($4), and baba ghanoush or hommos (each $5).
Now that the restaurant is open all day, the new, condensed menu features sandwiches, entree salads, and a wide selection of local, craft beers.