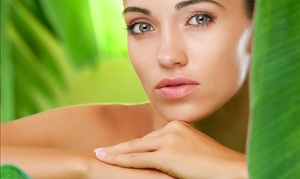 One chemical peel
The human face can display a formidable array of emotions, including confusion as to the location of Wyoming and relief after finally locating Wyoming. Smooth your facial geography with this Groupon.
Choose Between Two Options
$39 for one chemical peel (a $95 value)
$99 for three chemical peels (a $285 value)
Aestheticians treat skin with a choice of chemical peels such as the 25% strength lactic-acid peel, 40% strength glycolic peel, and the beta peel. Each peel is designed to lift top layers of skin to reduce the appearance of fine lines, acne scarring, and hyperpigmentation. The treatments typically require little to no downtime afterward.