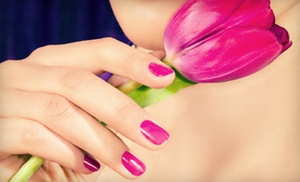 One ultimate manicure/pedicure, including exfoliation and OPI mask
It's important to keep your nails in good shape, just in case you ever need to claw your way out of a malfunctioning birthday cake at a surprise party. Stay sharp with this Groupon.
Choose Between Two Options
$29 for an ultimate mani-pedi (a $65 value)
$19 for a Shellac manicure (a $40 value)
The 60-minute ultimate mani-pedi refreshes fingertips and toes with basic nail cleanup, exfoliation, and an OPI mask. Shellac manicures take 45 minutes, during which technicians file and buff nails and apply a durable polish that can last up to two weeks.