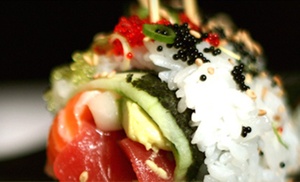 $30 Groupon for dinner
Inviting somebody to break bread is an act of hospitality, like when a strongman breaks his door in half so you can come inside. Share a meal with this Groupon.
$15 for $30 Worth of Japanese Food
Appetizers such as deep-fried soft-shell crab ($10.50) precede filet mignon teriyaki ($21.50), nabeyaki udon with chicken, fish cake, and spinach ($10.75), and plenty of sushi, including tuna sashimi ($4.95) and spicy yellowtail rolls ($4.75). See the full menu.