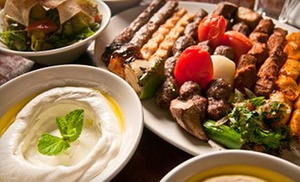 $40 Groupon
A rumbling stomach is the body's reminder that humans need food, much like a rumbling volcano is the earth's reminder that humans are needed as food. Sacrifice your hunger with this Groupon.
$20 for $40 Worth of Upscale Lebanese Fare and Drinks
The menu includes baba gannouj ($6.50), lamb kebabs ($16), seasoned beef with imported pistachios ($18), and wines, such as Cave Kouroum merlot or Pradio pinot grigio ($9/glass).