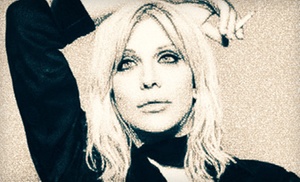 6/22/13 at 8pm: One Ticket to Courtney Love - In Concert, General Admission Standing
A great live performance is something you'll be able to describe to your kids someday, unlike the way they looked midbirth. Scream along to your favorites with this GrouponLive deal.
The Deal
$18 for one ticket to see Courtney Love in concert with special guest Starred (up to a $37 value)
When: Saturday, June 22, at 8 p.m
Where: The Fillmore Silver Spring
Standing room only general admission
Door time: 7 p.m.
Ticket values include all fees.
Courtney Love
Talents: singer, songwriter, actress, artist, and instigator
How casual fans know Courtney Love: lead singer of Hole, betrothed of Kurt Cobain, fashion icon, essential to the "Riot Grrl" movement
How devoted fans know Courtney Love: caught her when she played with Faith No More and Babes in Toyland, made it through Alex Cox's Straight to Hell, dug through her garbage this morning
Hole songs that you might hear: "Malibu" and "Miss World"
Hole song you probably won't hear: "Doll Parts," because it's "just a simple song, just three chords, and it kind of drives [her] nuts."
Title of her one and only solo album: America's Sweetheart
Tentative title of her upcoming solo album: Dyed Blonde
Golden Globe nominations: one, for The People vs. Larry Flynt
Turned down a role in Charlie's Angels: Full Throttle
Why?: because she didn't want another Golden Globe nomination
Surprising live cover: Jay Z's "99 Problems"
Indie cred for Starred: they're on SubPop records, Pitchfork touted their single "No Good," and they're half-Brooklyn, half-L.A.