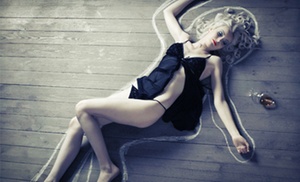 February 15, 9 p.m.: One Ticket to See "Crimes of Passion: 'Til Death Do Us Part"
The right lighting can set the mood, whether it's the twinkle of fireflies, a full moon in a starry sky, or a glowing lava flow oozing through a downtown thoroughfare. Heat up the night with this GrouponLive deal to the National Museum of Crime & Punishment, also known as the Crime Museum. For $22, you get one admission to Crimes of Passion: 'Til Death Do Us Part on Friday, February 15 (a $44 value). Choose from the following times:
7 p.m.
7:30 p.m.
8 p.m.
8:30 p.m.
9 p.m.
9:30 p.m.
On the day after Valentine's Day, twosomes gather at the Crime Museum, where they're handcuffed together, then sent on a twistedly romantic expedition. During their journey, they'll peruse the Crimes of Passion exhibit, which contains true tales such as the "Valentine's Vampire," who was sent to jail for leaving fang-marks on every piece of chocolate he gave to a loved one. In addition to displays on tainted relationships, visitors can explore the museum's other interactive exhibits, inking themselves with temporary prison tattoos and deciding on a last meal before springing themselves from the joint to analyze blood splatter like modern forensics experts.
Crime Museum
The Crime Museum, sometimes referred to as the National Museum of Crime and Punishment, shines a light on the dark underbelly of society with more than 100 interactive exhibits spread across three stories and 25,000 square feet of gallery space. After resting their weary bones in an unplugged electric chair, fans of CSI can live out television fantasies at the Crime Scene Investigation exhibit, where they learn what it takes to be a forensic scientist and watch professionals in action before trying to determine whether or not fellow museum-goers exhibit the traits of serial killers. The exhibit also serves as a crash course in fingerprinting, DNA testing, fraudulent-check investigation, and dental-impression and ballistics analysis. The museum devotes an entire level to the now-retired set of America's Most Wanted, providing an adjoining exhibit where fans of the show can step into a green screen for a criminal profile or imaginary Caribbean vacation. The museum's many permanent exhibits include A Notorious History of American Crime, about the country's felonious forefathers, and an exploration into one of the most heinous masterminds of modern times in the Ted Kaczynski: The Unabomber exhibit.