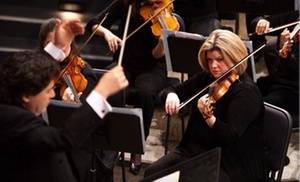 Feb 09, 8 pm, Orchestra: One Ticket to See "Our City, Our Symphony" presented by Alexandria Symphony Orchestra
Conductors got their name by both guiding orchestras and wielding copper batons that deflect lightning away from the brass section. Behold an electrifying performance with this GrouponLive deal to see "Our City, Our Symphony" presented by the Alexandria Symphony Orchestra at the Rachel M. Schlesinger Concert Hall and Arts Center. Doors open 90 minutes before showtime. Choose between the following seating options:
For $28, you get one ticket for orchestra seating (up to a $74 value).
For $20, you get one ticket for balcony or terrace seating (up to a $54 value).
Then choose between the following performances:
Saturday, February 9, at 8 p.m.
Sunday, February 10, at 3 p.m.
The Alexandria Symphony Orchestra has moved audiences with interpretations of classical and contemporary masterpieces for more than a half-century. "Our City, Our Symphony" celebrates the orchestra's ties to Alexandria with a collection of local talent exploring the works of international geniuses. The performance opens with Mendelssohn's Hebrides Overture in B Minor, Op. 26, which touts foreboding and triumphant themes inspired by the dark mouth of Fingal's Cave on Staffa, an island off the Scottish coast, and the $20 bill Mendelssohn once found there. Concertmaster Claudia Chudacoff then steps into the lead for Mozart's Violin Concerto no. 4 in D Major, trilling through blindingly paced explorations of the scales. The program also includes a number of special-guest groups, including the Alexandria Choral Society with a performance of Bach's Komm, Jesu, komm!, as well as the Virginia Bronze Handbell Ringers of Northern Virginia and the Heritage Signature Chorale, who will perform a world premiere of River Poem, commissioned in honor of Alexandria.