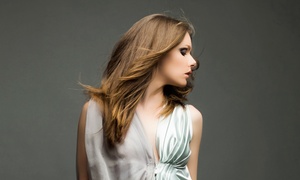 One haircut and style
Hair never stops growing, much like America's endless beautiful forests. Trim your ends with this Groupon.
Choose from Three Options
$27 for a haircut and style (a $55 value)
$65 for a haircut, partial highlights, and style (a $130 value)
$149 for a keratin treatment (a $350 value)
Some hair-straightening products that claim to be formaldehyde-free include aldehyde compounds, which are similar to the carcinogen formaldehyde. Side effects may include nosebleeds, headaches, vomiting, and respiratory problems, among others. Learn more about the health risks here.