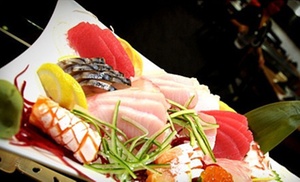 $40 Groupon
Once mastered, chopsticks are the most manageable eating utensils, unlike forks, which get mangled in the dishwasher, or fingers, which get lost in the mouths of teething sock puppets. Eat easily with this Groupon.
$20 for $40 Worth of Sushi and Japanese Cuisine for Dinner
The menu includes teppanyaki entrees of rib-eye steak ($20.95) and scallops ($23.95) as well as pan-fried yaki soba ($13.95) and appetizers such as baked baby octopus ($6.95).