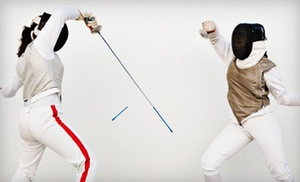 A 1-hour fencing class
Fencing was once commonly learned at an early age, which is why so many octogenarians still settle disputes with games of Rock, Paper, Épée. Celebrate civilized swordplay with this Groupon.
Choose from Three Options
$16 for one one-hour fencing lesson (a $32 value)
$70 for four one-hour fencing lessons (a $150 value)
$175 for a one-week fencing camp (a $380 value)
Equipment rental is included for all lessons. Click here for the current class schedule. The Spring/Summer fencing camp is designed for the novice fencer between the ages of 7 and 13 and takes place from 9 a.m. to 3 p.m. on Monday through Friday. Camps focus on fencing basics, including footwork, strategy, and etiquette. Equipment is included.