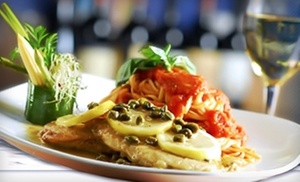 $30 Groupon for dinner
Dining out with young children can be a challenge, especially when they won't stop playing with their food or mispronouncing "bouillabaisse." Enjoy a family meal with this Groupon.
$15 for $30 Worth of Upscale American Food for Dinner
Choose from a wide range of American classics for dinner, including a waffle benedict topped with two poached eggs, bacon, and gruyere cheese ($13.99), about two dozen burgers and sandwiches ($6.99â€"$16.99), and hearty dinner entrees, including jumbo lump crab cakes ($18.99) and spaghetti ($13.99). See the full menu.