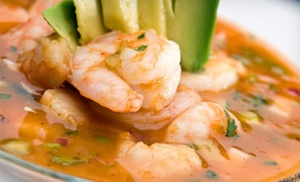 $20 Groupon
South American cuisine incorporates elements from around the globe, including Chinese cooking techniques from the West, Spanish tapas from the East, and cocktails cooled by icebergs from the South. Taste all the cardinal directions with this Groupon.
Choose Between Two Options
$10 for $20 worth of South American lunch or dinner
$20 for $40 worth of South American lunch or dinner for four or more
The dinner menu includes tapas such as papa rellenas, or fried mashed potatoes stuffed with ground beef and Andean spices ($6.99), as well as entrees such as chicken Milanesa ($12.99) and churrascoâ€"grilled steak with french fries and plantains ($16.99). The lunch menu includes select entrees as well as sandwiches such as the De Pernil with pulled pork, lettuce, tomato, and onions ($7.99).