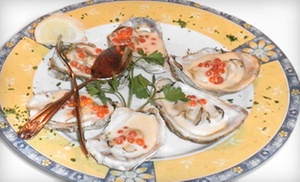 $50 Groupon
Tables at fine-dining restaurants are known for their fancy patterned-linen outfits, unlike tables in home kitchens, which are notorious for going nude. Dress up for a nice meal with this Groupon.
$25 for $50 Worth of Classic French and Scandinavian Cuisine
The menu begins with appetizers such as baked oysters with champagne sauce and caviar ($17.75), pear salad with baby spinach and belgian endives ($12.75), and escargot in garlic butter and parsley ($9.75). Elegant entrees include flounder dusted with panko and horseradish sauce ($27), crispy roasted duck sweetened with Grand Marnier and orange zest ($32), and Scandinavian options ranging from the Scandinavian platter, an assortment of smoked salmon, trout, and Danish herring ($17.75), to marinated Danish herring served with cold akvavit ($17.75). Diners can finish off their meals with elegant desserts such as flourless chocolate concorde cake, hot blueberry bread pudding, and Pear Belle-Helene, with vanilla ice cream, pears, and slivered almonds.