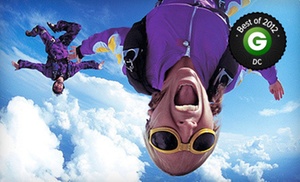 Tandem jump and T-shirt for one person
Packing a parachute is not unlike packing a bag lunch: it's a bummer when your mom puts old ham in either one. Enjoy a fresh pack with this Groupon.
Choose Between Two Options
$159 for a tandem skydiving session ($299 value) with a souvenir T-shirt ($25 value) for one (up to a $324 value)
$315 for a tandem skydiving session with souvenir T-shirts for two (up to a $648 value)
After launching from the private plane's side door, skydivers free fall at speeds of up to 120 miles per hour while strapped into a parachute with an experienced instructor. Once instructors deploy the chute, the duo gently drifts to the ground. During the 40-second dive and 7-minute descent with parachute deployed, eyes enjoy panoramic views of the Blue Ridge Mountains, lakes, and rolling forests, as well as the capital's skyline.