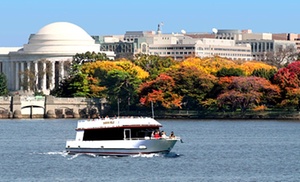 Admission for 2 for the fall foliage tour
Bodies of water are frequent metaphors in poetry because of their unfathomable depths, unknowable sprawl, and unattainable porpoises. Set sail into the enigma with this Groupon.
Choose Between Two Options
$26 for a one-hour fall-foliage cruise for two (a $52 value)
$51 for a one-hour fall-foliage cruise for four (a $104 value)
From October 19 through November 30, DC Cruises' double-decker boats ferry passengers across DC's waterways in search of gorgeous views of fall foliage against national monuments. Guests sip complimentary cups of pumpkin-spiced or apple-cider tea while peering through the panoramic windows on the heated, enclosed lower deck or taking in the brisk air on the open upper deck.