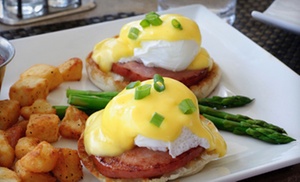 Brunch for four: four entrees and eight mimosa's or bloody mary's
Water covers more than 75% of the globe, teeming with still undiscovered life forms we could probably boil. Discover delicious fish with this Groupon.
Choose Between Two Options
$25 for two Sunday-brunch entrees (up to a $13.95 value each) and four mimosas or bloody marys (a $6.95 value each; up to a $55.70 total value)
$50 for four Sunday-brunch entrees and eight mimosas or bloody marys (up to a $111.40 total value)
Brunch takes place every Sunday from 11 a.m. to 3 p.m. The menu is constantly changing to showcase the best seasonal and sustainable catches. Recent entrees have included steak and eggs, seared jumbo shrimp and grits with Old Bay cream and braised greens, and pan-roasted mussels with bacon, tomato, garlic, and a chardonnay sauce.