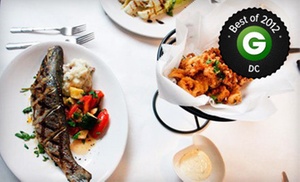 Dinner for 2: includes 2 starters, 2 main plates, and 2 desserts
Water covers more than 75% of the globe, teeming with still undiscovered life forms we could probably boil. Discover delicious fish with this Groupon.
Choose Between Two Options
$40 for two starters, two entrees, and two desserts (up to an $83.30 total value)
$75 for four starters, four entrees, and four desserts (up to a $166.60 total value)
The dinner menu is constantly changing to showcase the best seasonal and sustainable catches. Recent starters (up to a $10.85 value) include seared sea scallops with pesto oil, and recent entrees (up to a $20.95 value) include braised Boston cod with chorizo and tomato-wine broth. Desserts (up to a $9.95 value) range from local Great Falls ice cream of the day to buttered banana bread with caramel and pecan ice cream.