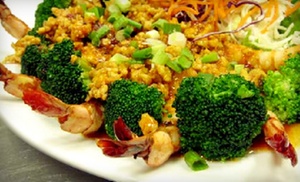 1210 N Garfield St. in Arlington: $40 Groupon
Thai food attempts to balance the five fundamental flavors: bitter, sour, sweet, salty, and victory. Score a win for your mouth with this Groupon.
$20 for $40 Worth of Thai Food
Choose between the Arlington and Lansdowne locations.
The menu includes dishes such as marinated bangkok beef ($16), green curry with shrimp ($14), and barbecue chicken, basil, and sprouts wrapped in rice paper ($6).