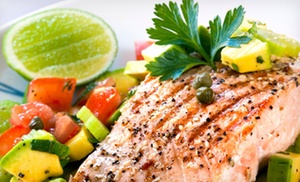 $40 Groupon for dinner
Fine-dining establishments give you options, such as soup or salad? and silver platter or wax-paper-lined top hat? Celebrate good taste with this Groupon.
$20 for $40 Worth of Upscale American Food for Dinner
The dinner menu includes appetizers ($9â€"$14) such as avocado bruschetta, sandwiches ($12â€"$16) such as the new-york-steak dip sandwich with melted brie and horseradish cream, and entrees ($15â€"$28) such as jumbo lump crab cakes and barbecue jamaican baby-back ribs.