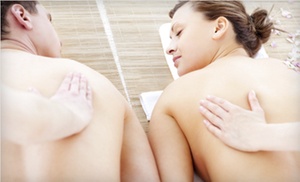 One-hour couples massage with 30-minute infrared sauna session for each person
Built-up tension can reduce a person's mobility, turning the YMCA dance into the IIII. Easily spell any song with this Groupon.
$99 for a Couples Valentine's Day Spa Package ($240 Value)
60-minute couples massage (a $180 value)
30-minute infrared-sauna session for two (a $60 value)
Couples relax side by side and enjoy the soothing heat of hot stones, the targeted pressure of an athlete's massage, or the gentle strokes of a Swedish treatment. Then the infrared sauna's deep-penetrating heat sinks through the skinâ€"up to two inches below the surfaceâ€"which helps increase metabolism, improve circulation, remove toxins, and relieve pain.