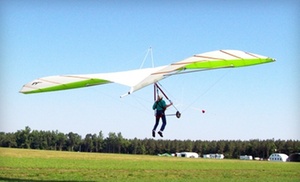 Beginner hang-gliding lesson for one person
If humans had never harnessed the power of flight, we would never have crossed the Atlantic in a day, flown an airplane around the world, or become addicted to honey-roasted peanuts. Go on a power trip with this Groupon.
Choose Between Two Options
$60 for a beginner hang-gliding lesson for one (a $125 value)
$119 for a beginner hang-gliding lesson for two (a $250 value)
During the four-hour course, seasoned instructor Steve Wendt teaches participants the essentials of hang-gliding, starting with ground school to cover gliding basics and how to approach clouds without startling them. Once on the training hill, participants strap into their lightweight crafts to practice running into the wind and lifting off, as well as balancing their weight with the wings and leaning at the right angles. Staff help students fly the length of up to two football fields while taking their time with slow, steady glides, and equip them with full harnesses and helmets. Classes take place Mondayâ€"Friday, with some weekend classes opening up if the school is not already at capacity.